UNIQUE WEDDING & EVENT VENUE IN THE STUNNING SHOALHAVEN
An incredible event starts with an amazing venue – and Figbird Cottage delivers all that and more. From the South Coast's largest marquee to our commercial catering facilities, comprehensive services, rambling country gardens and sweeping rural views, it's the perfect place for weddings and special events that leave everyone spellbound.
Everything you need for your big day
Figbird Cottage offers a wide range of facilities designed to deliver the best possible event experience for you and your guests, including:
Custom-built European marquee: complete with 300m2 of timber flooring, clear and covered white walls and ceilings, designer chandelier and chairs, and industrial fans, our German-built marquee is the largest and most sought-after on the South Coast. It's a brilliant canvas for any style of event, from high glamour to relaxed boho.
Commercial catering facilities: adjoining the marquee is a fully-equipped portable commercial kitchen, complete with industrial gas fryers, oven, cooktop and dishwashers. Our generator ensures the power is always on, whatever the weather.
Network of exceptional local suppliers: from fabulous caterers and beverage suppliers to photographers, event planners, celebrants and more, we can connect you to the best supplier for your needs.
Event styling: add personality and function to your event with our decorative topiary and English buxus plants or a variety of designer furniture and vintage props.
Boutique on-site accommodation: relax, recharge and connect in The Nest or The Cottage, or take luxe outdoors with small group glamping.
Guest parking for 40+ cars plus drop-off areas for buses, mini-buses and taxis.
If you're seeking the ideal wedding venue close to Berry and Nowra, Figbird Cottage can take your celebrations to a spectacular new level.
Atmosphere and Ambience
Right at the heart of an evergreen dairy district in the tranquil Shoalhaven, Figbird Cottage boasts astonishing rural views from every angle. Pass through the gates and rose arbour into our lush grounds, adorned with hundreds of rose and camellia bushes, sculptured topiary and tall rows of heritage trees. Beautifully landscaped gardens and fairy-lit entertaining areas create distinct, welcoming spaces for couples to grab a picnic rug and connect, or for family and friends to joyfully gather over a game of cricket, boules, table tennis or giant Jenga.
It's the perfect marriage of country romance and eclectic elegance, creating relaxed ambience at every turn.
Packages to suit every event and budget
At Figbird Cottage, we're determined that your special occasion should exceed your wildest dreams. From intimate weddings to anniversaries, milestone birthdays, corporate retreats and workshops, we offer a range of packages from full service to DIY. We can build in as much or as little as you like, from venue hire, catering, cleaning and event management to accommodation and entertainment. We work quietly behind the scenes to make everything seamless from start to finish, so you can relax and enjoy with confidence.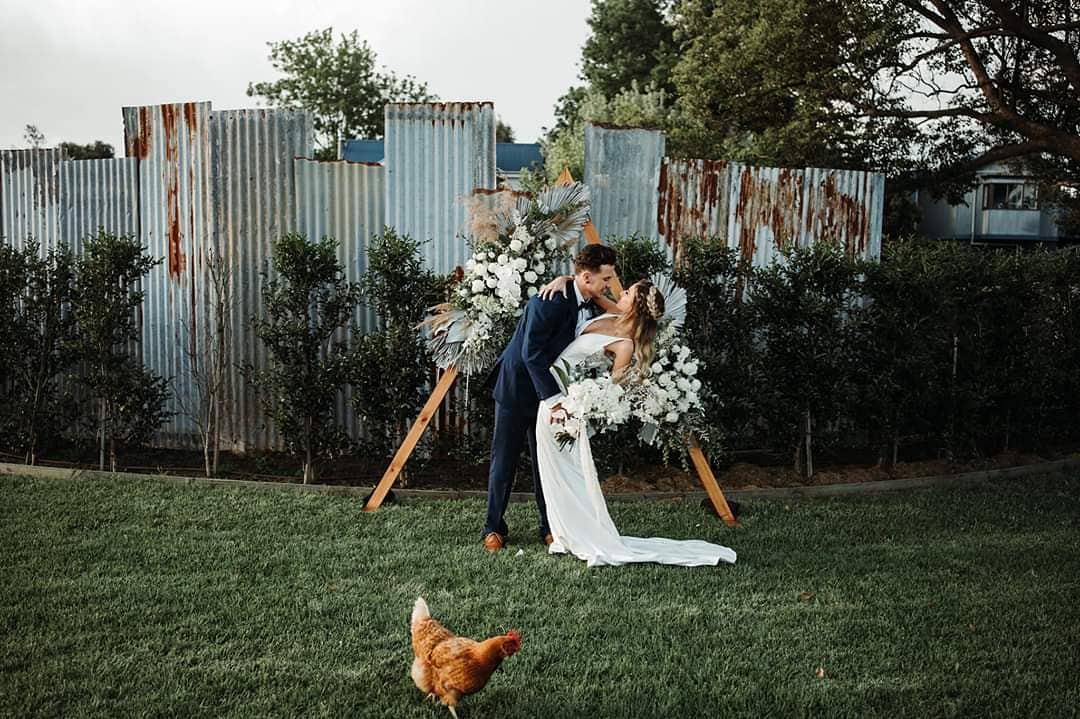 The setting was amazing the venue was perfect for their perfect day, the food was amazing and the staff were impeccable. Well done to Figbird Cottage. I would recommend you to everyone that is looking for the perfect venue for your upcoming event.
- Nicole
As a wedding planner, Figbird Cottage was a dream to work with. Their grounds are so versatile and their marquee is just beautiful. Everything is super easy to style which makes it a dream for couples looking to make a venue their own. Lisa worked really hard to make my couple's day come true. 
Such a beautiful venue - highly recommend!
- Rachel
Figbird cottage is an absolutely stunning site, and it was the perfect venue for our wedding. The grounds were stunning, the accomodation beautiful (and so convenient) and Lisa went above and beyond to make sure our wedding day was perfect. You will be glad you booked this venue.
- Jessamyn
My husband & I got married at Figbird in April 2021. Not only is the venue absolutely beautiful & charming, but so is Lisa. Lisa made the lead up to the big day seamless & there was never anything that was too big an ask. She helped in every way she could before & on the big day. Nothing was a problem & she was always calm, happy & accommodating. I would highly recommend this venue to any brides out there looking around. Lisa is very open & upfront about what is included, there are options for add-ons, local vendors are fantastic & the setting is just beautiful for a fun wedding. Outdoor areas give you loads to play with & the marquee is just what you would be looking for. Thank you Figbird for giving us such a memorable & special day.
- Tayla
We had the time of our lives at our wedding at Figbird Cottage! The owners Lisa & Mike are the kindest, most genuine lovely people in the world! They have a beautiful property & onsite accommodation! We can not thank the Figbird Cottage team enough for having us & we can not recommend them highly enough!
- Courtney
These incredible people have created the most beautiful wedding venue. Lisa was so kind to us throughout the whole process & made sure everything was perfect for our big day. From keeping us in the loop on covid restrictions including a lengthy phone call she made to NSW health to ensure she knew exactly what we could & couldn't do, to seeing her tend to the beautiful gardens the morning of the wedding Lisa went above & beyond for us. Aside from her service the venue itself is absolutely beautiful. The grass is lush, the marquee is stunning, the gardens are beautiful & the photo shoot spots are endless. If you are looking for a wedding venue on the South Coast I highly recommend Figbird. It was perfect for our wedding & would be for you too!
- Tenille
My partner and I recently got married here. A beautiful location run by wonderful and friendly people. Organising a wedding during covid was difficult but Lisa did everything she could to make it as easy as possible for us and helped us through every stage.
- Jacob
What a gorgeous little wedding venue....however there's plenty of open spaces too. When I married my couple there as a celebrant, the owners were amazing and so attentive to all the guests. A definite choice for your wedding with country charm.
- The Master of Ceremony - Civil Celebrant
Gordon and I would like to thank you for such an amazing night at Figbird Cottage. It was a crazy time and so happy that you were able to accommodate and modify (at short notice) for Cherise & Daniel's wedding. We were blessed with beautiful weather and you helped make this a very special and fun night! There has been many wonderful comments from family and guests how beautiful your venue is and being able to have everything outdoors turned out to be such a magical experience!
- Gordon & Kaye
Thank you for everything you guys did for us. We will never forget it and it was such an amazing day. Figbird is just gorgeous.
- Kel & Amz